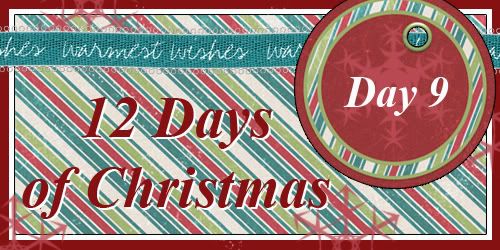 On the 9th day of Christmas…
I wanted to make a quick and easy item for my son's teacher to have on her desk but I wanted to think outside of the box.   So I decided to recover a box of Kleenex and make it fun and colourful for his Kindergarten class to enjoy for the month of December.
I started off by covering each face of the box with some fun patterned paper from Basic Grey.  I then covered the top edges of the box using some soft green coloured ribbon.
On one of the long sides I wanted to create a little snowy scene with Santa and his sleigh…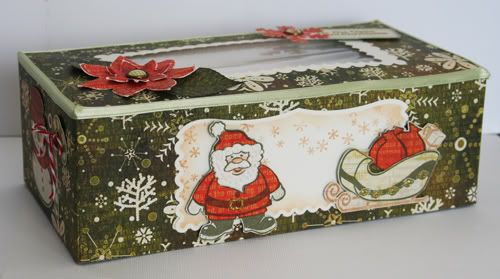 For each of these images, I stamped the Santa from the Ho Ho Ho stamp set on multiple pieces of patterned paper.  I cut out each piece to his suit out of the red paper and added it to the creamy white paper.  I added some pink Copic to cheeks to "merry" him up a little!  A tough of glitter didn't hurt either…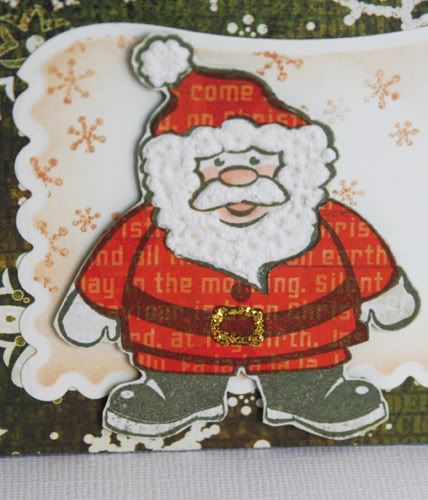 The back ground of snow was creating using the mini snowflake stamps from the Tree for all Seasons stamp set.
To create Santa's sleigh, I used the same paper piecing technique as my Santa and layered my patterned paper pieces until I got my desired image built.  This cute sleigh image is from the Ho Ho Ho set as well!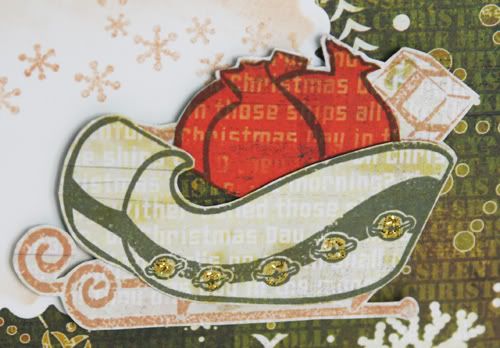 On the smaller end of the box, I paper pierced a little snowman from our Merry Mr. Snowman stamp set.  His cute little candy cane is also from this set.  I added a little Copic "rouge" to this little fella too!
For the second long side, I wanted to make the side a simple greeting side so I used the "happy" stamp from the Lots of Dots Sentiments set to start and then I stamped the word "holidays" using our Royal Flush alphabet set.  I coloured the insides of the letters with my Copic markers to make them a little more festive!  I also added some cute little trees from our O Christmas Tree! set to build a little landscape of sorts.  The double wavy line image is a fun stamp from the Christmas Garlands set.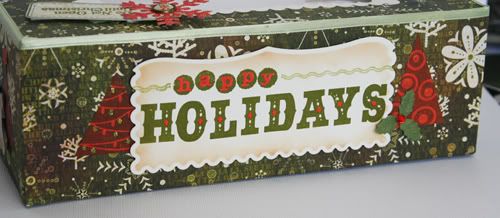 For my final small end, I stamped a reindeer fellow from our Ho Ho Ho set for Santa.  I coloured his nose and collar red to add touch of colour.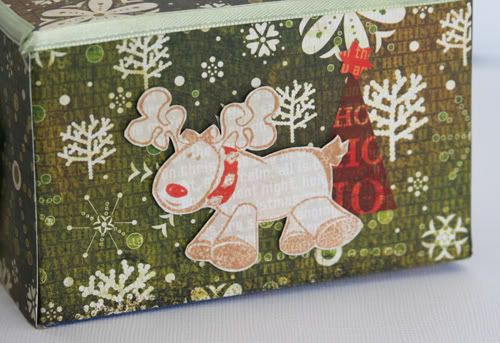 And finally for the top of the Kleenex box, I wanted to ensure that the kids were still able to pull out the tissues so I kept it simple.
I built a simple die cut layered poinsettia and added some stamped leaves from the Floating Leaves set.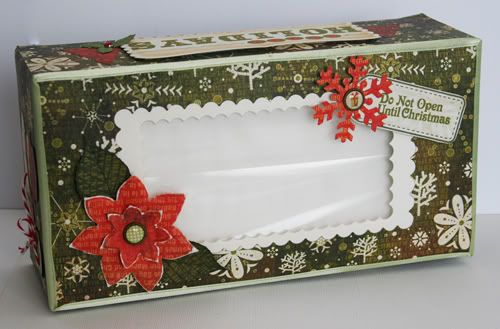 I also added a die cut red snowflake with a little tag and message from the Santa's Tags stamp set.
Overall I just adore how this came out and I just know the kids in my son's class are going to enjoy all the whimsical critters each side has to offer!  It may be just a Kleenex box but there's nothing to say that it can't be something fun to look at!
So take some holiday inspiration and infuse it in your everyday!  Take something from your desk or counter and alter it to be something festive… even if it's just a temporary decoration.
Happy Stamping!