We have had a lot of birthdays in the last few months for the members of the myStampBOX design team.  Cherie had a little boy in mid December, Mason and Tracey just had a little girl at the end of February, Daphne.  Congrats to Cherie and Tracey and their families!
So in honour of all the lovely additions to our mSB family, I thought I would fun to focus on BIRTHDAYS today!
Let's start with some fun and simple birthday cards; cards for all ages and genders!
I started off with a very simple, masculine card.  Clean lines, darker colours, simple patterns like polka dots and some fun stamps can make a great masculine card!
Happy Birthday
I used one of the cute little circles from the Funky Circles stamps sets and created a quick line of fun stamped circles on my off white paper.  I added a heat embossed "Happy Birthday" greeting from Happy Word Jumble stamp set on some dark brown cardstock and popped it off this simple card background.  A very easy birthday card for that special man in your life!
Programmed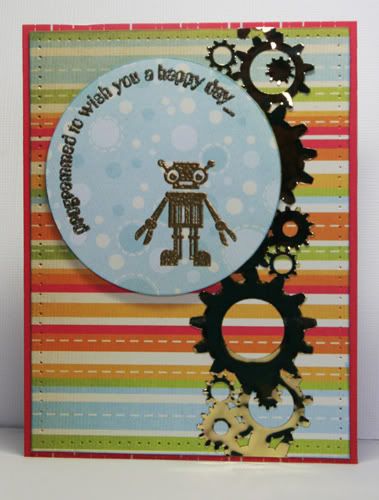 I absolutely love all the little robot creatures from the Programmed Robots stamp set and knew that I had to make a fun birthday card for that special little guy reaching that next year of life.  I bent the greeting from the set around a circle of fun patterned paper and heat embossed the greeting and the little robot using some gorgeous embossing powders by one of our sponsor's, PK Glitz.  I love how this fun birthday card turned out!
Wish Come True
For my last card, I wanted to create a "girly" kind of card for my stash so I searched through my patterned papers for one that jumped out and I found this fun polka dot paper.  It started me off with a fun colour scheme for this card.  I stamped the subtle green branch from the Floating Leaves stamp set for the window first.  Then I layered on a pretty pink butterfly from the Colourful Companions set and also a fun greeting from my Oval Office stamp set.   I also used some Versamark ink and stamped a frilly edge along the label shape at the bottom using one of the circles from my Funky Circles stamp set.
——————–
Now that I had created a few cards, I also wanted to showcase a birthday themed layout so I created this frilly page showcasing lots of fun mSB stamp sets. That's me and my son just hours after he was born.
Special Delivery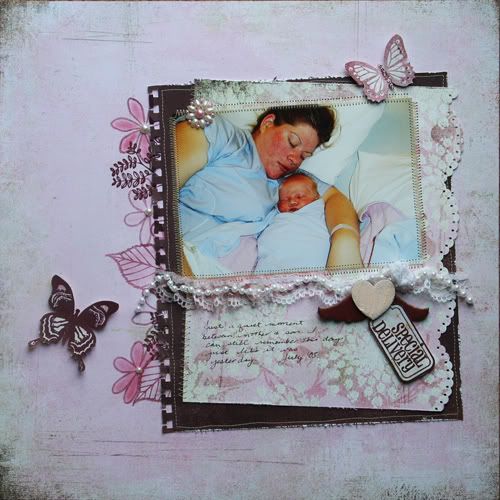 Here are all the fabulous stamps I used on this layout: tag (Road Trip), title (Mention It!), butterflies (Colourful Companions),  flowers (Garden Sketches), branch and leaf (Floating Leaves).
Here are a few close ups of my stamping and design…
I used only one colour of ink for all my stamping on this page.  To create a lighter ink colour, I first stamped my image off on a scrap piece of paper, then I stamped the image on my page.  It's as simple as that!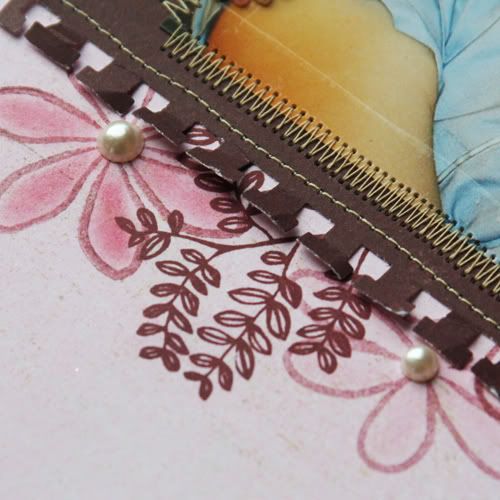 And another close up of one of my butterflies with a touch of glitter.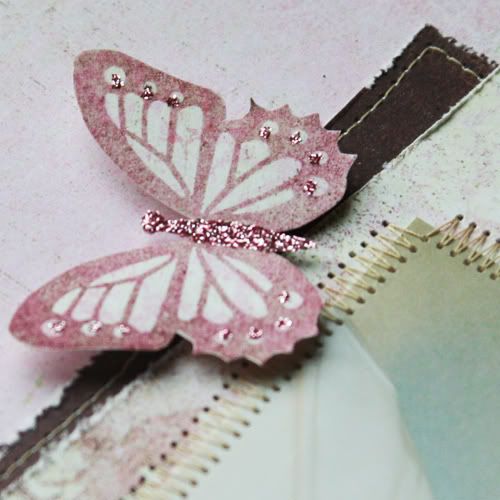 So the next time you are looking for some birthday inspiration, just take a gander at your myStampBOX stamp sets!  You never know where you will draw inspiration from!
Have a great weekend!
~ Allison Cope ~